Simple registration example using servlet and JSP
This example shows how to create a simple Registration page using servlet and JSP to get user information
Click here for registration form with Mysql database connectivity

JSP code for registration form
<%@ page language="java" contentType="text/html; charset=ISO-8859-1"
	pageEncoding="ISO-8859-1"%>
<!DOCTYPE html PUBLIC "-//W3C//DTD HTML 4.01 Transitional//EN" "http://www.w3.org/TR/html4/loose.dtd">
<html>
<head>
<meta http-equiv="Content-Type" content="text/html; charset=ISO-8859-1">
<title>User Data</title>
</head>
<style>
div.ex {
	text-align: right width:300px;
	padding: 10px;
	border: 5px solid grey;
	margin: 0px
}
</style>
<body>
	<h1>Registration Form</h1>
	<div class="ex">
		<form action="RegistrationController" method="post">
			<table style="with: 50%">
				<tr>
					<td>Full Name</td>
					<td><input type="text" name="fullname" /></td>
				</tr>
				<tr>
					<td>Address</td>
					<td><input type="text" name="address" /></td>
				</tr>
				<tr>
					<td>Age</td>
					<td><input type="text" name="age" /></td>
				</tr>
				<tr>
					<td>Qualification</td>
					<td><input type="text" name="qual" /></td>
				</tr>
				<tr>
					<td>Percentage</td>
					<td><input type="text" name="percent" /></td>
				</tr>
				<tr>
					<td>Year Passed</td>
					<td><input type="text" name="yop" /></td>
				</tr>
			</table>
			<input type="submit" value="register" />
		</form>
	</div>
</body>
</html>
web.xml mapping
<?xml version="1.0" encoding="UTF-8"?>
<web-app xmlns:xsi="http://www.w3.org/2001/XMLSchema-instance"
	xmlns="http://java.sun.com/xml/ns/javaee"
	xsi:schemaLocation="http://java.sun.com/xml/ns/javaee http://java.sun.com/xml/ns/javaee/web-app_2_5.xsd"
	id="WebApp_ID" version="2.5">
	<display-name>registration</display-name>
	<welcome-file-list>
		<welcome-file>registration.jsp</welcome-file>
	</welcome-file-list>
	<servlet>
		<description></description>
		<display-name>RegistrationController</display-name>
		<servlet-name>RegistrationController</servlet-name>
		<servlet-class>com.candidjava.RegistrationController</servlet-class>
	</servlet>
	<servlet-mapping>
		<servlet-name>RegistrationController</servlet-name>
		<url-pattern>/RegistrationController</url-pattern>
	</servlet-mapping>
</web-app>

Registration Servlet code

package com.candidjava;

import java.io.IOException;
import java.io.PrintWriter;

import javax.servlet.RequestDispatcher;
import javax.servlet.ServletException;
import javax.servlet.http.HttpServlet;
import javax.servlet.http.HttpServletRequest;
import javax.servlet.http.HttpServletResponse;

/**
 * Servlet implementation class UserDataServlet
 */
public class RegistrationController extends HttpServlet {

	protected void doPost(HttpServletRequest request, HttpServletResponse response) throws ServletException, IOException {
		// TODO Auto-generated method stub
		response.setContentType("text/html");
		PrintWriter out = response.getWriter();
		String name = request.getParameter("fullname");
		String Addr = request.getParameter("address");
		String age = request.getParameter("age");
		String Qual = request.getParameter("qual");
		String Persent = request.getParameter("percent");
		String Year = request.getParameter("yop");
		if(name.isEmpty()||Addr.isEmpty()||age.isEmpty()||Qual.isEmpty()||Persent.isEmpty()||Year.isEmpty())
		{
			RequestDispatcher rd = request.getRequestDispatcher("registration.jsp");
			out.println("<font color=red>Please fill all the fields</font>");
			rd.include(request, response);
		}
		else
		{
			RequestDispatcher rd = request.getRequestDispatcher("home.jsp");
			rd.forward(request, response);
		}
	}

}

Success page (home.jsp)

 <%@ page language="java" contentType="text/html; charset=ISO-8859-1"
    pageEncoding="ISO-8859-1"%>
<!DOCTYPE html PUBLIC "-//W3C//DTD HTML 4.01 Transitional//EN" "http://www.w3.org/TR/html4/loose.dtd">
<html>
<head>
<meta http-equiv="Content-Type" content="text/html; charset=ISO-8859-1">
<title>Display</title>
<style>
table#nat{
	width: 50%;
	background-color: #c48ec5;
}
</style>
</head>
<body>  
<% String name =  request.getParameter("fullname");
	String Addr = request.getParameter("address");
	String age = request.getParameter("age");
	String Qual = request.getParameter("qual");
	String Persent = request.getParameter("percent");
	String Year = request.getParameter("yop"); %>
<table id ="nat">
<tr>
	<td>Full Name</td>
	<td><%= name %></td>
</tr>
<tr>
	<td>Address</td>
	<td><%= Addr %></td>
</tr>
<tr>
	<td>Age</td>
	<td><%= age %></td>
</tr>
<tr>
	<td>Qualification</td>
	<td><%= Qual %></td>
</tr>
<tr>
	<td>Percentage</td>
	<td><%= Persent %></td>
</tr>
<tr>
	<td>Year of Passout</td>
	<td><%= Year %></td>
</tr>
</table>
</body>
</html>
Screenshot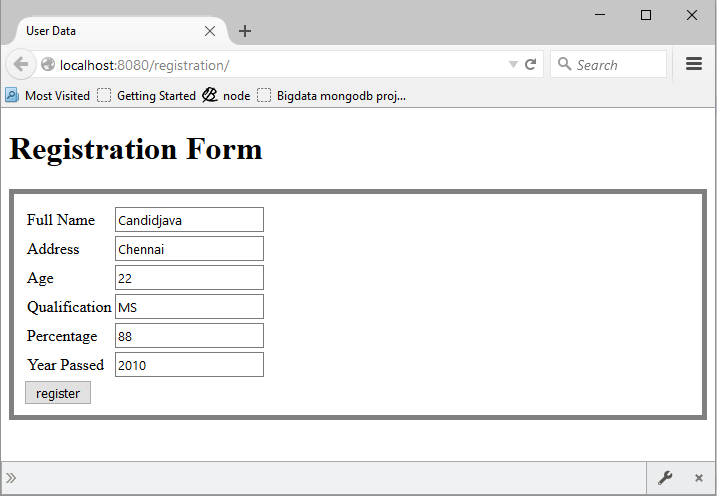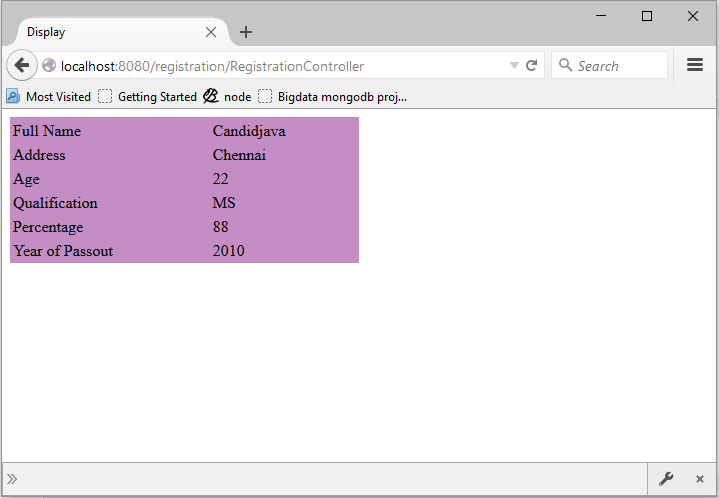 Download
Related Post
Comments
gadde chandu
this code is easy to understand for freshers so its good
raja
i have error in Registrationcontroller . how to solve in this error 1.HTTP method GET is not supported by this URL
Raju
Where we have to keep 'success page' code ?
Candidjava
Add your success page code in WebContent folder if you are using eclipse
vinod
how to solve 404 exception in servlets....... for registration page
Ian
This code does not work.
sudheer kumar
This code doesn't work
Tutustype
Today anybody has an Android tablet all across the world. This has lead to developing a tons of applications that provide servises such as games, entertainment and others. To download any of these apps a user must get an account at Google Play. But not all apps are available there as they don't meet the Android rules. To avoid this a new app was developed named TutuApp. This helper works on Android run tablets and it has the biggest library of APK apps. We name a few: Spotify, Pokemon, Clash of Clans and many others. They come with zero ads and locked content! Whant to know more? Visit
Tutu App Android
to download TutuApp APK for free on your Android smartphone. Installation instructions for Tutu App are available there.
Lesaspida
Order Direct Amoxicilina Tablets Armagh Cialis Prix Lyon
viagra
Weight Loss Orlistat Medical Fl