Java package tutorial with example
Packages in java


What is packages?
A package is a grouping of related types providing access protection and name space management. Note that types refers to classes, interfaces, enumerations, and annotation types.
A package is a collection of related classes.
It helps Organize your classes into a folder structure and make it easy to locate and use them.
More importantly, It helps improve re-usability.
Creating a class inside a package
Create a directory structure as shown in image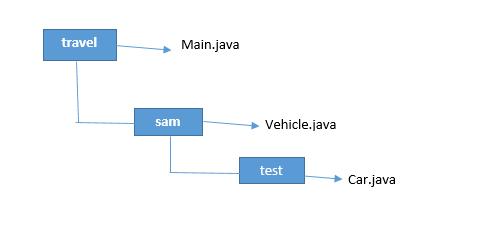 Main.java

public class Main

{

// your code

}

Vehicle.java

If your code belongs to package then your programs first line should be

package <packagename>
package sam;

public class Vehicle
{
public  int a = 10
                //your code
}
Car.java
 

package sam.test;

public class Car
{
                //your code
}



Accessing a class located in different package

There are two ways to access class located in different package

1. Using import statement to access the class

Star(*) imports all classes located in the package specified.

import sam.*;

import sam.test.*;

But the best practice is to import only the specific class

import sam.Vehicle;

import sam.test.Car;

To access vehicle and car class in Main
 import sam.Vehicle;
import sam.test.Car;

class Main
{
	public static void main(String[] args)

	{
                Vehicle v1=new Vehicle();
                System.out.println(v1.i);
	}
}
Compile all classes and run Main.java to check the output
2. Instead of importing the class using import keyword you can import it while creating the object
sam.test.Vehicle v1=new sam.test.Vehicle();
   class Main
{
        public static void main(String[] args)

		{
			sam.test.Vehicle v1=new sam.test.Vehicle();
	                System.out.println(v1.i);
		}
}
This type of import will be used to avoid import conflicts when we have same class name in different package
Related Post
Comments
akhila
nice
yathindra chowdary talluri
nice
rashi
best
suniya
Very good
asdasd
asda sdhs ajkfdhkjsh dfiwhif saihdf fsad