Cookie login logout session example using Servlet jsp
This tutorial explains how to create and login logout code using stateless client based session cookie.
Creates a cookie, a small amount of information sent by a servlet to a Web browser, saved by the browser, and later sent back to the server. A cookie's value can uniquely identify a client, so cookies are commonly used for session management. Read More
Environment used:
Eclipse luna
Jdk 1.8
Servlet 2.5 web module
Tomcat 8 (require servlet 3.1 jar)
Step 1:
Create a simple login page login.html
<%@ page language="java" contentType="text/html; charset=ISO-8859-1"
    pageEncoding="ISO-8859-1"%>
<!DOCTYPE html PUBLIC "-//W3C//DTD HTML 4.01 Transitional//EN" "http://www.w3.org/TR/html4/loose.dtd">
<html>
<head>
<meta http-equiv="Content-Type" content="text/html; charset=ISO-8859-1">
<title>Insert title here</title>
</head>
<body>
<form action="login1" method="post">
      User:<br/><input type="text" name="user"/><br/>
      Password:<br/><input type="password" name="password"/><br/>
      <input type="submit" value="Login"/>
      </form>
</body>
</html>

Step 2:
Create a Login Servlet (Login.java).
This servlet will
1. Authenticate the user (username: candidjava , password: candidjava)
2. create new cookie object
3. redirect to home page
If the username password is invalid it will redirect to login.html with an error message.
package com.candidjava.servlet.cookie;

import java.io.IOException;
import java.io.PrintWriter;

import javax.servlet.RequestDispatcher;
import javax.servlet.ServletException;
import javax.servlet.http.Cookie;
import javax.servlet.http.HttpServlet;
import javax.servlet.http.HttpServletRequest;
import javax.servlet.http.HttpServletResponse;

public class Login extends HttpServlet {
	private static final long serialVersionUID = 1L;

	protected void doPost(HttpServletRequest request,
			HttpServletResponse response) throws ServletException, IOException {
		// TODO Auto-generated method stub
		String un = request.getParameter("uname");
		String pw = request.getParameter("pass");

		PrintWriter out = response.getWriter();
		Cookie ck = new Cookie("auth", un);
		ck.setMaxAge(600);
		if (un.equals("candidjava") & pw.equals("candidjava")) {
			response.addCookie(ck);
			response.sendRedirect("home.jsp");
			return;
		} else {
			RequestDispatcher rd = request.getRequestDispatcher("login.html");
			out.println("Either user name or password is wrong.");
			rd.include(request, response);
		}
	}
}

Step 3:
home.jsp
This page will be loaded after successful login, and it will automatically logged out if the session time exceeds 10min or if user deleted all cookie from the browser
<%@ page language="java" contentType="text/html; charset=ISO-8859-1"
	pageEncoding="ISO-8859-1"%>
<!DOCTYPE html PUBLIC "-//W3C//DTD HTML 4.01 Transitional//EN" "http://www.w3.org/TR/html4/loose.dtd">
<html>
<head>
<meta http-equiv="Content-Type" content="text/html; charset=ISO-8859-1">
<title>Insert title here</title>
</head>
<body>
	<%
		Cookie[] cks = request.getCookies();
		if (cks != null) {
			for (int i = 0; i < cks.length; i++) {
				String name = cks[i].getName();
				String value = cks[i].getValue();
				if (name.equals("auth")) {
					break; // exit the loop and continue the page
				}
				if (i == (cks.length - 1)) // if all cookie are not valid redirect to error page
				{
					response.sendRedirect("sessionExpired.html");
					return; // to stop further execution
				}
				i++;
			}
		} else {
			response.sendRedirect("sessionExpired.html");
			return; // to stop further execution
		}
	%>
	<h3>You had successfully logged in.</h3>
	<br> your session is set to expire in 10min
	<br> try reloading after 10 min
	<br>
	<form action="Logout" method="post">
		<input type="submit" value="Logout">
	</form>
</body>
</html>
Step 4:
web.xml mapping
<?xml version="1.0" encoding="UTF-8"?>

<web-app xmlns:xsi="http://www.w3.org/2001/XMLSchema-instance"
   xmlns="http://java.sun.com/xml/ns/javaee" 
   xmlns:web="http://java.sun.com/xml/ns/javaee/web-app_2_5.xsd"
   xsi:schemaLocation="http://java.sun.com/xml/ns/javaee 
   http://java.sun.com/xml/ns/javaee/web-app_3_0.xsd"
   id="WebApp_ID" version="3.0">
   
   <display-name>Struts 2</display-name>
   <welcome-file-list>
      <welcome-file>index.jsp</welcome-file>
   </welcome-file-list>
   <filter>
      <filter-name>struts2</filter-name>
      <filter-class>
         org.apache.struts2.dispatcher.FilterDispatcher
      </filter-class>
   </filter>

   <filter-mapping>
      <filter-name>struts2</filter-name>
      <url-pattern>/*</url-pattern>
   </filter-mapping>
</web-app>
Screen shot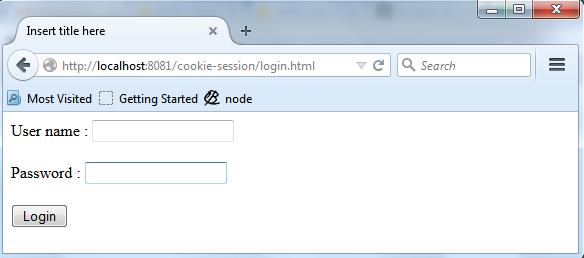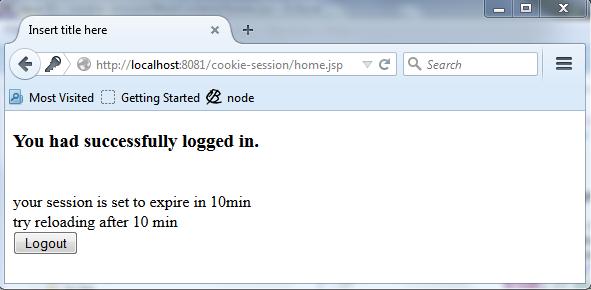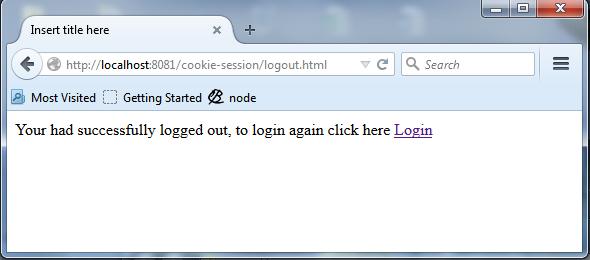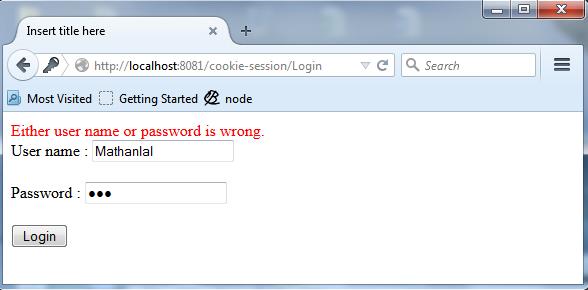 Download Example
War file : cookie example
Zip file : Cookie example
Related Post
Comments